Welcome to The IUT of Bordeaux-University
At TC Bordeaux we continuously update our academic offer so that it is able to respond to social, economic, work-related, scientific and technological changes.
If your interest is to deepen your knowledge, strengthen your vision of the world, if you want to take courses in French and English, TC Bordeaux is your best option.
If you want to discover our academic offer or if you have already been selected to join TC Bordeaux, you will find all the necessary information here!
Tech de Co Bordeaux offers a wide range of technology courses in sales, marketing and communication. It is one of the 17 departements within the IUT of Bordeaux, part of the University of Bordeaux.. Thanks to diversified teaching methods and a team of committed teachers and professionals, the students become all-round, autonomous and highlty adaptable professionals.
Why would you choose TC Bordeaux ? Quality and recognized courses within the professional world – the student at the center of our educational project – a variety of teaching methods and allow professional situations to the student – many partnerships with the companies – a personalized support.
Where are we situated ? 35, avenue Abadie 33072 Bordeaux Cedex
France Tech de Co Bordeaux is situated on the Bastide Campus, right bank of Bordeaux, close to the city center and reachable by tram.
The infrastructures are modern and equipped with digital fittings. Equipped with an info library, a documentation center with also rooms for group works.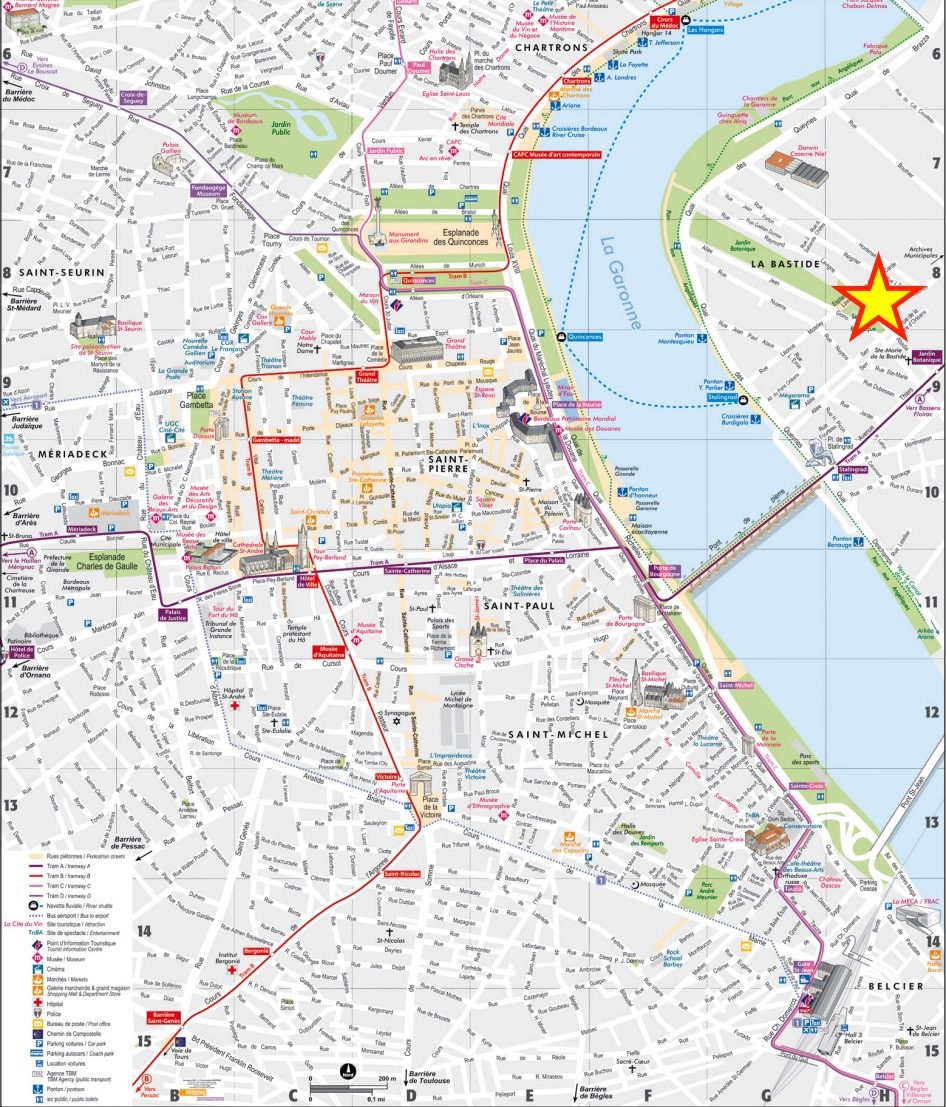 You have chosen the University of Bordeaux to make a mobility for a semester or a year . We hope you will enjoy Bordeaux and you will have an unforgettable stay!
BVE (Student Life Center) organizes once or several times a month cultural activities, visits to different tourist places to relax and discover more about Bordeaux during your stay.
The invitations are mainly for ERASMUS and INTERNATIONAL students. After your subscription in the faculty, you will receive details by e-mail about each activity that will be organized by the BVE. Below you have some pictures of the activities that have already been deployed. We hope you will have some fun!
If you wish to apply for a room in the university residence, you must complete an application form on the Internet site of CROUS ( Regional Center of Student Social Services) before the end of May. Beyond this date you may apply via a waiting list system.Please note that there is a high demand and a limited number of rooms available. 
Moreover, the University of Bordeaux will send you links regarding websites to find an accommodation in private sectors if a student room is not granted. 
Tramway
It works all days from 5 AM to 00 AM only on Thursdays, Fridays and Saturdays until 1 AM. A tram every 3 to 5 minutes in the day and rush hour.
Aeroport Bordeaux-Mérignac – Tech de Co University Bus no1 : 31 stations – Cassin → Palais de Justice ( ≈57 min) Tram A : 6 stations – Palais de Justice → Jardin Botanique
Railway Station Saint Jean – Tech de Co University Tram C : 4 stations – Gare Saint Jean → Porte de Burgogne ( ≈26 min) Tram A : 2 stations – Porte de Burgogne → Jardin Botanique
Prices ​
The « Pass Jeune » card which gives you access to the entire transport network ( tram, bus, bateau and parc-relais) if you are under 28 years old.
Please bring the following documents to obtain the card you need :
"Pass Jeune" from completed and signed (may be downloaded on the TBM Internet Site)
Photocopy of an ID document Recent
ID photo ( 4.5 * 3.5 cm)
Means of payments: check, cash, credit card or payment via monthly automatic withdrawal ( bank account details and direct debit mandate are necessary).
TBM website (opening hours)
Financial aid for accommodation 
As with French students, you may qualify for student accommodation help from the CAF ( Caisse d'allocations familiales – Family Benefits Agency). For this help, you must be a student, have a rental contract in your name and not be responsible for any children. For non- EU students, you will need a residence permit that is valid for over 3 months.
You may complete your application on-line via the following website : www.caf.fr . 
When renting an apartment, in most cases the payment of a security deposit is necessary as well as a rental payment guarantee. 
Don't hesitate to contact the Student Life Centers for help! bve.pessac@u-bordeaux.fr
Here you will find our academic offer for the Bachelor en Marketing Techniques (Techniques de Commercialisation) in first, second and third years !
Bordeaux – the place to live and learn! Capital of south west of France, Bordeaux welcomes leading football and rugby teams. Less than an hour away, there are the sunny beaches of the Atlantic coast and the rolling landscapes of the region's famous vineyards. Further south are situated the historic and cultural treasures of the Basque Country and the Pyrenees.
What can you visit?
Office opening hours (B403)
Monday : 13h30 -17h30
Tuesday : 8h30 – 12h00 / 13h30 -17h30
Wednesday: 8h30 -12h30
Thursday : 9h00 – 12h00 / 13h30-17h30
Friday: 13h30 – 17h15
Diana Sarrade Cobos – Mobility Coordinator TC Bordeaux
Claire Lartigaud – International Relations Assistant IUT Bordeaux